Definition failed to load / Validate Checksum Failed
When you read your PCM and then try to open the file with VCM Editor and receive this message here's what you should do (as described in the error message):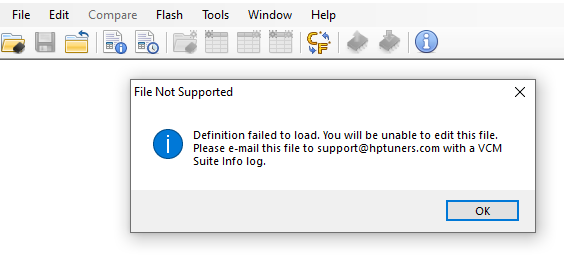 1. Redownload & install the latest BETA software from our website and retest the file to see if you still receive the error. If you still get the error proceed to #2
2. Start a Support Ticket and provide the .hpt file as well as a VCM Suite Infolog while connected to the vehicle
3. We will send you an update as soon as support for the file is added to a new version of the software
Fixing these issues are #1 when it comes to support so you can be assured that you have our full attention when we receive one of these emails.

This error usually means its a new operating system we have yet to come across & we need to map the calibration for your use which takes a few days.

Thanks for your understanding and patience (we know what it is like to get something new only to have to wait another day to use it).
---