Problem: You read your PCM and then try to open the file with VCM Editor. However, a window pops up and states that the "Definition failed to load."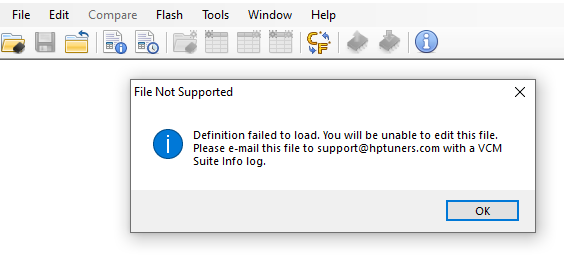 This error usually means you are using an operating system that is not currently supported. However, there are some steps you can take to check for a quick resolution:

Solution:
1. Download and install the latest BETA software from our website. Beta versions are updated frequently, so make sure you are using the most updated version. Retest the file to see if you still receive the error. If you still get the error, proceed to step #2.
2. Start a Support Ticket. You will need to provide the .HPT file as well as a VCM Suite Infolog while connected to the vehicle.
We will send you an update as soon as support for the file is added to a new software version.
Note: It may take a few days to map the calibration.